New Fashion Robot Milk Tea Kiosk For Indoor Application Scenarios
Robot milk tea kiosk MTD031A is designed as an enclosed type kiosk for indoor application scenarios like shopping mall, university, office building, transportation hub and other indoor environments. This robot milk tea kiosk is equipped with one robot arm to make the soft drinks as per the orders placed online through the payment systems supporting WeChat pay and Alipay. All the processes of soft drinks making are operated by collaborative robot arm automatically with the real-time illumination indication, showing the current process of tea making. This milk tea kiosk includes three series of drinks, they are pearl milk tea, fruit tea and yogurt tea respectively. The flavors can be adjusted by individuals through changing the sugar level, drink temperature and solid additive quantity. Besides, the specialized pre-order function can make the consumers more convenient to place the orders in advance and get the drinks without waiting. 
Robot milk tea kiosk MTD031A is mainly equipped with famous domestic collaborative robot arm and ice dispenser. The body of kiosk adopts the sheet metal structure with the material of Q235B. It provides three network connection modes, they are 4G, WIFI and Ethernet. The water supply is from gallon barrel water instead of tap water. The material refilling can be once a day, which depends on the configuration and real consumption.
Functions of robot milk tea kiosk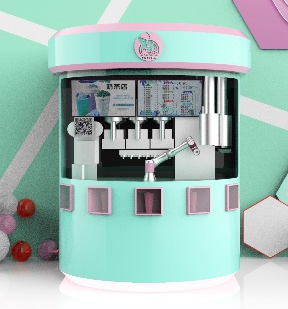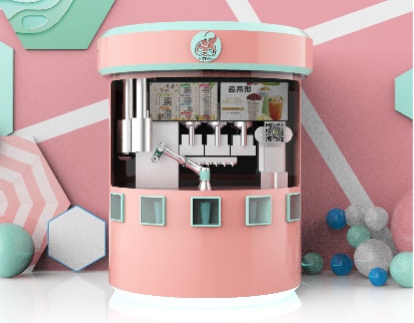 • IOS and Android based apps ordering online.
• Soft drinks making operated by collaborative robot arm automatically.
• Pre-order online
• Vision interaction(illumination indication) and sound interaction
• Kiosk surrounding real-time monitoring by camera.
• Milk tea kiosk inner hardware status real-time monitoring and fault alarm.
• Android based operation management system.
• Balanced material real-time display and material supplement reminder
• Consumption data analysis and export
• User management and ordering management.
• Wechat pay and Alipay
Parameters of robot milk tea kiosk
| | |
| --- | --- |
| Voltage |  220V 1AC 50Hz |
| Power installed |  6250W |
| Dimension (WxHxD) |  1800x2400x2100mm |
| Application environment |  Indoor |
| Average drink making time |  80 seconds |
| Maximum cups (one time material feeding) |  200 cups |
| Nos of channels for fluid supply |  8 |
| Nos of channels for fruit jams |  4 |
| Nos of channels for solid addictive supply |  3 |
| Payment method |  WeChat pay and Alipay |
● Unmanned operation
● Hygiene and safety
● Low maintenance cost
● Low operation cost
● Flexible deployment
● Easy installation and relocation
● Multiple applicable scenarios
● Multiple drink flavors
● Small area occupied
---
---
Write your message here and send it to us